Upcoming Events in St. Albans, WV
Alban Arts Center Presents Our Town
November 6, 2022 @ 2:00 pm

-

5:00 pm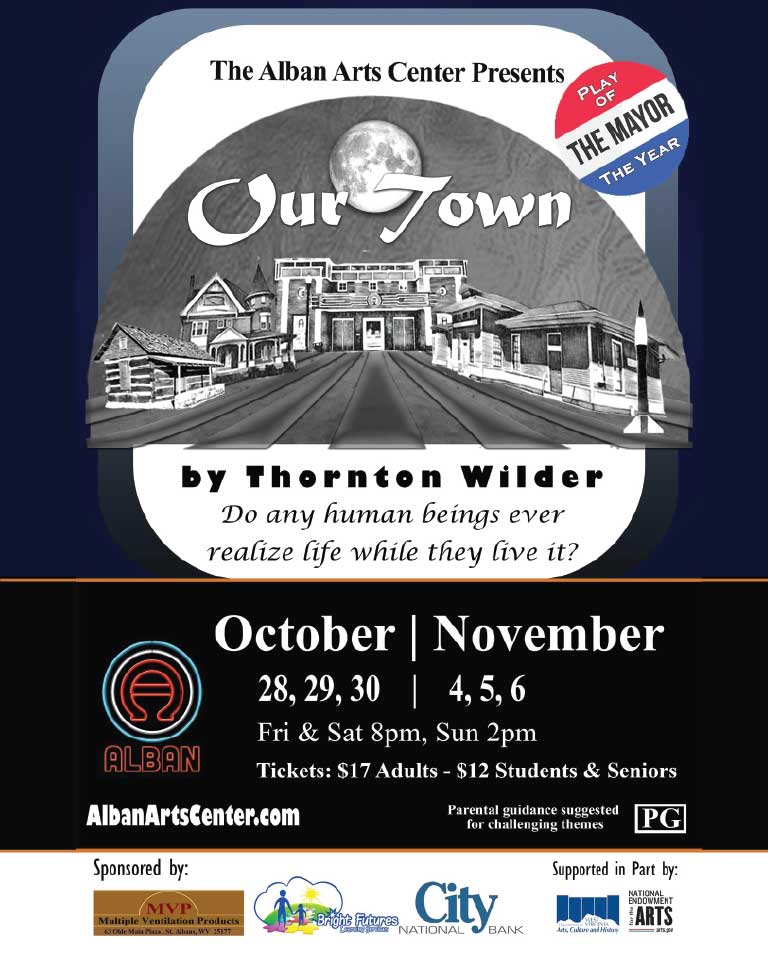 The Alban Arts Center Presents Our Town by Thornton Wilder on October 28, 29, 30 & November 4, 5, and 6 Friday and Saturday at 8:00 pm and Sundays at 2:00 pm. Thornton Wilder's most frequently performed play has become a timeless drama and an American classic with universal appeal. Our Town appeared on Broadway in 1938 to wide acclaim and won the Pulitzer Prize for Drama.
Voted "Mayor's Show of the Year" by St. Albans Mayor Scott James.
Dates:
October 28, 29 & Nov. 4, 5 at 8 pm
Sunday Matinees: 30 & 6th at 2 pm
Location:
Alban Arts Center
65 Olde Main Plaza
St. Albans, WV 25177
In Person Tickets: $17 for adults and $12 for seniors/students
May be purchased online at 
www.albanartscenter.com
 or by calling 304-721-8896. Group rates are available for groups over 10 persons.
Run time: 2 hours with intermission
Directed by Adam Bryan. Cast: Stage Manager – Chris Terpening, Fiona Sullivan, Lucien Sammons, Kerry Bart, Sophie Alexander, Ethan Hodge, Jennifer Anderson, Greg Morris, Ronda King, Lily Rhodes, Seth Vannoy, Christopher Sears, Tara Dotson, Wyatt Hanna, David McBrayer, Erin Carico
Synopsis:
Our Town tells the story of a small mythical town, Grover's Corners, New Hampshire, in order to tell us the story of every town, the whole world over. Narrated by the "Stage Manager," we follow the Gibbs and Webb families, residents of Grover's Corners, through twelve years of life changes — from the mundane in Act I, "Daily Life," to the romantic in Act II, "Love and Marriage," to the devastating in Act III, "Death and Eternity." Through the young lovers Emily and George, their strong and loving parents, and the many other Grover's Corners' locals, Wilder delivers universal truths about what it means to be human. Wilder offers a couple of chairs on a bare stage as the backdrop for an exploration of the universal human experience. The simple story of a love affair is constantly rediscovered because it asks timeless questions about the meaning of love, life, and death. "Oh, earth," Emily Webb exclaims towards the play's end, "you're too wonderful for anyone to realize you." With humor, wit, and exceptionally powerful storytelling, Our Town offers a unique opportunity for audience members to make precisely that realization of timelessness.
Related Events
No documents have been added at this time.