Upcoming Events in St. Albans, WV
The Amazing MARIO THE MAKER MAGICIAN MARCHESE – October 20
October 20 @ 7:30 pm

-

8:30 pm

$10.00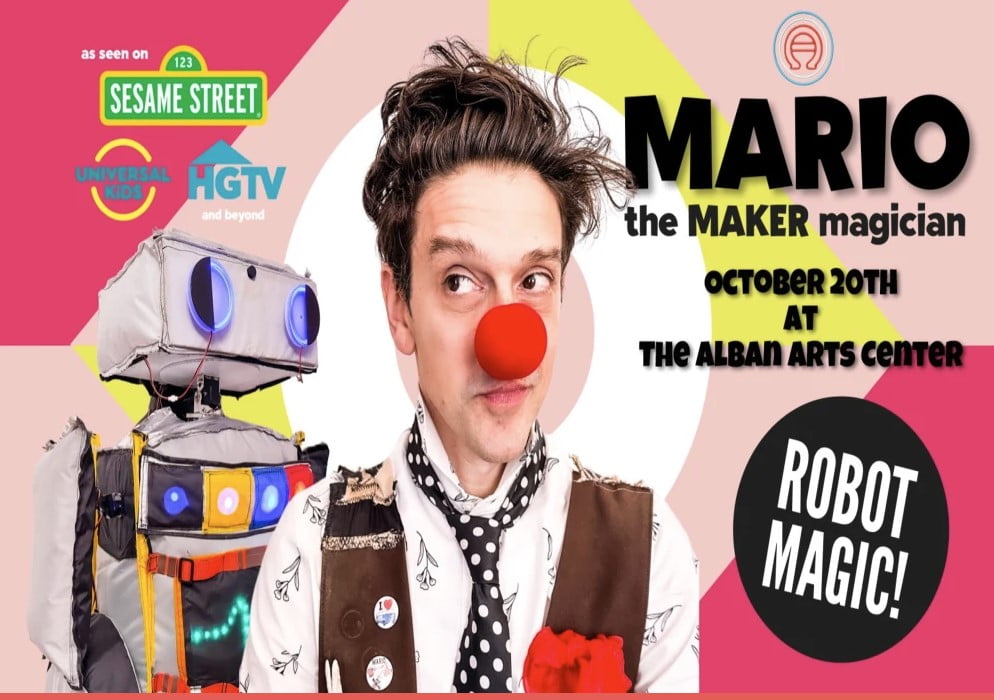 Step right up and prepare to be amazed! Witness the extraordinary fusion of magic and technology as Mario the Maker Magician takes center stage at the Alban Arts Center in St. Albans, WV. This isn't your average magic show; it's an all-ages, interactive theater experience that will leave you spellbound!
What Makes Mario Special? Mario "the Maker Magician" Marchese is a New York-based, first-generation Italian-American performer, author, and inventor. He's not just a magician; he's a modern-day wizard who combines traditional magic with handmade robots and DIY electronics. Imagine a world where Harry Potter meets Tony Stark—that's the realm Mario transports you to!
Accolades and Appearances Mario's unique brand of "Robot Magic" has earned him appearances on Sesame Street, NBC's Universal Kids, and HGTV. He's even toured with the legendary David Blaine, who hails him as "the best kids magician in the world!" Mario is also the author of two groundbreaking magic books, one of which features a foreword by none other than David Copperfield.
Automabot: The Viral Sensation During the pandemic, Mario didn't just sit idle; he created Automabot, an Arduino-driven cardboard magician that became a social media sensation. This charming little robot made waves across the internet and even appeared on TV in the US and Japan!
A Family Affair The "Mario the Maker Magician" brand is a labor of love, brought to you by Mario, his wife Katie, and their adorable kids, Gigi and Bear. They tour, invent, and dream together, making it a wholesome family affair.
Event Details
Location: Alban Arts Center, 65 Main Street, St. Albans, WV 25177
Ticket Price: $10.00
Running Time: 60 spellbinding minutes
Age Range: Fun for all ages!
Get Your Tickets Now! Don't miss out on this one-of-a-kind experience. Purchase your tickets here.
Venue Accessibility
Accessible parking available
Wheelchair accessible venue
Wheelchair accessible seating
Refund/Exchange Policy All sales are final.
So, mark your calendars and bring the whole family for an unforgettable evening of magic, robots, and endless wonder with Mario the Maker Magician!
Related Events
No documents have been added at this time.