Upcoming Events in St. Albans, WV
Yakfest 2023 – June 16 & 17 – Main Street St. Albans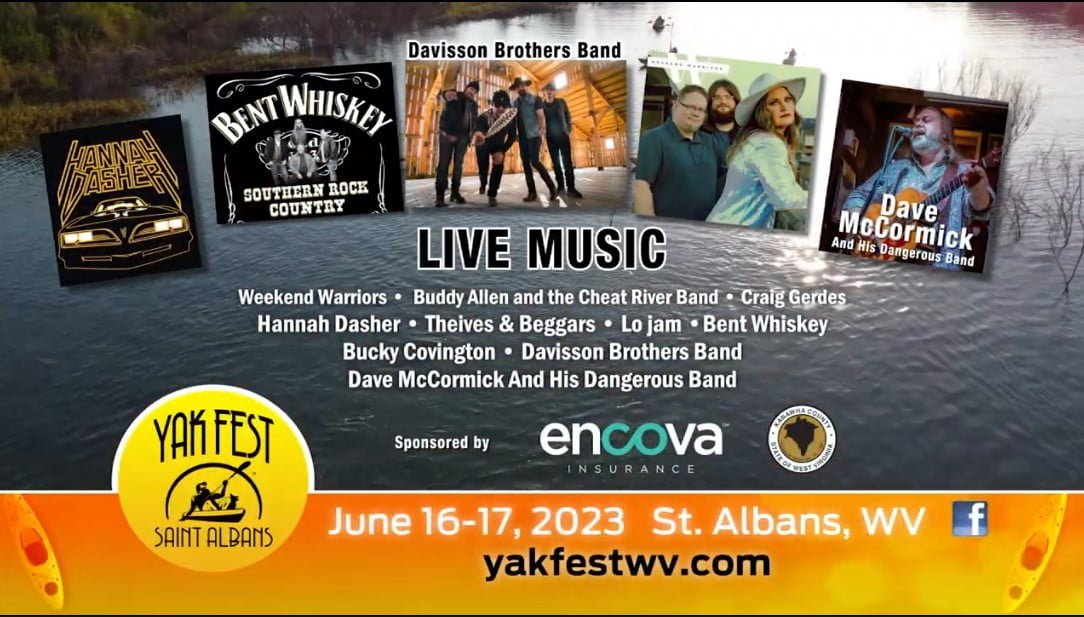 Join us on June 16-17, 2023, for Yakfest – the ultimate outdoor festival experience in St. Albans, WV! Considered the Flatwater Kayaking capital of West Virginia, our vibrant, historic city was also recently voted one of the top travel destinations by the Forbes Advisor List. It is the perfect backdrop for this two-day celebration of kayaking, fishing, live music, and other recreational activities along the Coal & Kanawha Rivers.
Yakfest Live Music Lineup
Get ready to rock out as we announce our amazing lineup of live music entertainment! We have the official live music lineup for this year's Yakfest on Main Street.
Friday, June 16
Weekend Warriors – 4 pm – 5 pm
Buddy Allen & The Cheat River Band 5 pm – 6 pm
Craig Gerdes 6 pm – 8 pm
Hannah Dasher  8 pm – 10 pm
Saturday, June 17
Thieves & Beggars   2 pm – 3 pm
Lojam  3 pm – 4 pm
Dave McCormick & His Dangerous Band 4 pm – 5 pm
Bent Whiskey 5 pm – 6 pm
Bucky Covington  6 pm – 8 pm
The Davisson Brothers Band  8 pm – 10 pm
Food, Craft Beer, and More!
It's time to indulge in the best food and craft beer St. Albans offers! From mouth-watering food trucks to unique craft beer stations, Yakfest promises to satiate all your culinary cravings. And if you're looking to try something new, we have plenty of local vendors with some of the latest and greatest in kayaking and outdoor gear. We're a family-friendly event with many activities for the kids to enjoy.
Arts & Crafts Vendors at Yakfest
And for those who appreciate the beauty of art, our festival will also feature exhibits from local artists, showcasing their creativity and skills.
Tour De Coal
In addition to the main festival, The Coal River Group will be hosting their annual Tour de Coal – a 12-mile paddle starting at Meadowood Park and ending in St. Albans.  The Tour de Coal is the perfect way for kayakers to experience the Coal River's beauty and challenge and be part of the excitement at Yakfest 2023.  More information at https://www.coalrivergroup.com/tour-de-coal.html
Join us for a Weekend of Fun and Adventure!
So mark your calendars for June 16-17, 2023, and join us for Yakfest – the ultimate celebration of kayaking, fishing, food, craft beer, and outdoor recreation. Stay tuned for more information on the lineup of live entertainment, art exhibits, food and craft beer, and recreational activities. And for more details about Yakfest, check out their website at www.yakfestwv.com. We hope to see you there!
Related Events
No documents have been added at this time.