1499 MacCorkle Avenue
St. Albans, WV 25177
Born, raised, and having lived in St. Albans, WV, his whole life, this is a natural progression for Scott to become Mayor of the city he loves and holds so dear. While growing up, he was always active in youth sports in St. Albans and even had a paper route servicing the South Washington-McQueen Blvd. area. He started his coaching career at age 15, coaching a minor league team for St. Albans Western Little League, and has been involved with the youth of St. Albans ever since.
Scott attended Hansford Elementary, St. Albans Jr. High, and graduated from St. Albans High School in 1977. He then received his Bachelor's Degree from Marshall University in Education and Athletic Training. He met Rebecca Sue Miller while working at Camp Galahad, a camp for children with Cerebral Palsy. They were married in August of 1983 and raised three children; Meagan, Jeremy, and Maura. Their three children are Scott and Becky's pride and joy. They now have two grandchildren and a third on the way, and love spending time with them.
Scott taught in Kanawha County Schools for 30 years. As an educator, he coached several sports culminating with the head coaching position for the St. Albans High School Girls Basketball Program. He served in this position for 14 years and turned a 0-23 team into a top 10 program.
Scott brings his history of making things better and winning to the office of Mayor. He is so excited to work with a city council with the same vision for St. Albans that he has, the employees of the city, the businesses, and the citizens to achieve the goal of making St. Albans the best town in WV. He has and will continue to work tirelessly to achieve his goals. Scott has an open door/phone policy and encourages the citizens to bring their concerns to him or drop by to say hello.
Mayor's State of the City Address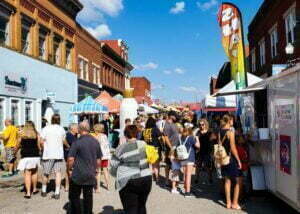 July and August have been very busy for the City of St. Albans with the Heritage Festival, Party in the
Read More »
Summer is in full swing, and so are the activities and events in SA! Parks and Rec are very busy
Read More »
Spring and summer activities in Saint Albans are in full swing. It was a great day naming the new boat
Read More »
Contact Mayor Scott James