ST. ALBANS, WV – The City of St. Albans will host its annual citywide spring cleanup event from April 25 through May 6. This yearly event is a great opportunity for everyone to come together and help make our city look its best!
There are various ways residents can get involved, including getting out in their community to help clean it up and getting rid of unwanted items around their house. We encourage everyone to participate, and we thank you in advance for your help!
2022 Citywide Spring Cleanup Schedule
The following schedule will be observed during the spring cleanup week for the City of St. Albans residents:
Monday, April 25 – Ward 1
Tuesday, April 26 – Ward 2
Wednesday, April 27 – Ward 3
Thursday, April 28 – Ward 4
Friday, April 29 – Ward 5
Monday, May 2 – Ward 6
Tuesday, May 3 – Ward 7
Wednesday, May 4 – Ward 8
Thursday, May 5 – Ward 9
Friday, May 6 – Entire City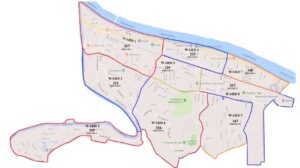 Additional Spring Cleanup Information
Please have all items to the FRONT of your house to the STREET/CURBSIDE on your designated pick-up day. There will be a charge for any building materials.
We will not accept tires, paint, or any hazardous materials. Brush and tree limbs must be called into the office for pick up.
Please have all vehicles off the street on your Ward's designated cleanup day. This will make it easier for the street sweeper to clean your streets thoroughly.
Please contact the St. Albans Public Works Department at 304-727-4259 Monday through Friday between 8 AM and 4 PM for more information about this year's city-wide spring cleanup.
**THIS CLEANUP IS FOR THE CITY OF ST. ALBANS RESIDENTS ONLY**