St. Albans Streetscape Banners Program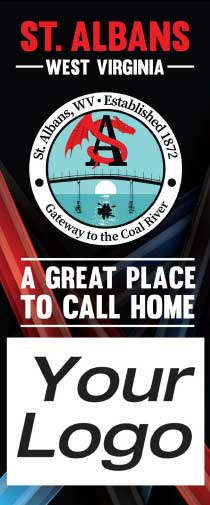 Showcasing Your Business with Pride
Enhance the visual appeal of your business while contributing to the beautification of our beloved St. Albans. Our streetscape banners program offers local businesses and organizations an exceptional opportunity to showcase their community pride and increase visibility.

Join us in creating a vibrant and welcoming atmosphere that captures the essence of our city. Banner sponsorships starting at $100/month.
We are excited to unveil a brand new design theme for the second phase of our streetscape banners program. With fresh and captivating designs, your business will stand out and make a lasting impression on passersby. Our goal is to create a visually engaging streetscape that reflects the energy and vitality of St. Albans.
Boost Brand Recognition: Reinforce your brand identity and increase visibility among residents and visitors alike.
Drive Foot Traffic: Draw attention to your business and attract potential customers with eye-catching streetscape banners.

Support Economic Growth: Showcase St. Albans' thriving economy and demonstrate your commitment to the community's prosperity.

Beautify Our City: Contribute to the overall visual appeal of our streets, creating an inviting environment for all.
Note: Limited spots are available. Sign up now to reserve your place in the program.
Take this opportunity to showcase your business's pride in the St. Albans community. Don't miss out on being a part of this exciting initiative that will elevate your brand and contribute to the visual appeal of our city.