City St. Albans is announcing its partnership with Heads Up, LLC, to provide residents with notifications pertaining to the community. The partnership further extends the City's commitment to keeping the residents informed and safe.
Heads Up Community is a free downloadable Mobile App that will allow the City of St. Albans to share community-based information through real-time push notifications. The Mobile App provides a one-way system of communication from the County 911 Center, Health Department, Police, Fire, Festival Committee, and other City Departments.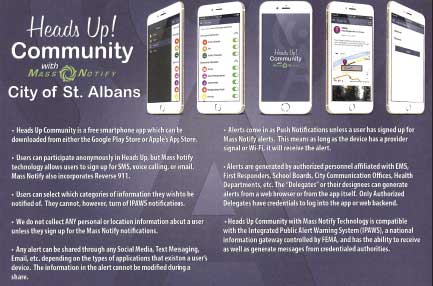 Citizens can participate anonymously with the Heads Up! Community. The Mobile App does not require any personal information or mobile numbers and by simply downloading the mobile app you are ready to receive notifications. One of the best features is that it can be customized to select only the information you wish to receive.

The is free and anyone can download and install it from either the Apple Store or Google Play.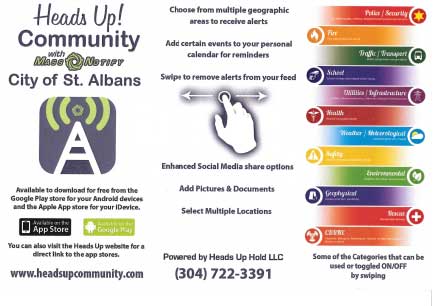 The notifications can easily be shared with family and friends on social media, text messaging, or email, depending on what social media and other applications the family or friend has on their mobile device. The City of St. Albans will use the Mobile App to disseminate day-to-day information such as local events, festivals, and street closures. Emergencies such as severe weather, flooding, chemical leaks, and so forth will be available as well. Notifications are triggered by authorized personnel affiliated with the City.
For more information and media relations, please contact Mayor Scott James at St. Albans City Hall by phone at (304) 727-2971 or email at [email protected]
About Heads Up, LLC: Heads Up, LLC is a West Virginia-based company committed to providing effective and efficient notification systems to communities of all sizes. The company's Heads Up Community Mobile App and Mass Notify products help municipalities and emergency agencies inform their members and citizens of emergencies and community events. The Heads-Up Community team is comprised of staff with a range of backgrounds including technology, sales, public safety, emergency management, and communications. To learn more about Heads Up, LLC, visit http:ijheadsupcommunity.com/. To download the FREE App, visit the Google Play Store or Apple's Mobile App store.